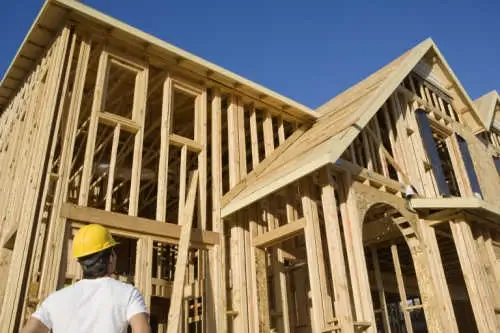 If you are an active-duty or retired service member, you are likely familiar with the many benefits of buying a home with a VA loan. The Department of Veterans Affairs guarantees mortgage loans that have some of the best rates and terms on the market. But what if you want to build a custom home, rather than buy an existing home or own from a commercial builder? Is it still possible to use a VA home loan to build a house? 
The answer is yes, under the right circumstances, with a VA construction loan. 
What is a VA Construction Loan? 
A VA construction loan is a short-term loan that helps you pay as you go to build a new custom house. Instead of just giving you the full amount of the loan up-front, your lender will disburse funds from the construction loan on an as-needed basis as different parts of the home are completed.
What are the Advantages of VA Construction Loans?
There are often no down payment requirements on these short-term loans.
They help borrowers bridge the financing gap between building and a long-term mortgage.
Some borrowers, like VA disability recipients and qualifying surviving spouses, are exempt from paying the one-time VA funding fee on these loans.
VA Construction Loan Step-By-Step Process
Find a VA-approved lender who provides VA construction loans.
Provide a Certificate of Eligibility (COE) to your lender. This proves your eligibility as an active-duty servicemember, veteran, or qualifying surviving spouse.
Get pre-approved with your lender. This will be a selling point for you when it comes to finding a builder. They will know you are serious about building and paying for the project. Getting pre-approved for a mortgage will also inform you about how much house you can afford.  
Find a VA-registered builder. Once under contract and the plans are complete, the builder will need to submit a complete set of house plans to your lender as well as information on the materials they plan to use. 
Order a property appraisal. Your lender should be able to help you find a VA home appraiser who is familiar with VA construction loan guidelines to evaluate your proposed building plans.
Wait for the loan underwriting. Your VA construction loan will take somewhere between 45 and 60 days to be fully approved. Once the loan closes, you will receive funds according to your building timeline. The balance of the money will be put into an escrow account to be withdrawn as needed.
Pass the final VA inspection. Once your new home is complete, your lender will order an official VA inspection to make sure that everything was built to code and is in good working order. After you pass, your loan will be handled in one of two ways: you'll pay off the VA construction loan by refinancing into a traditional VA loan or you can do construction-to-permanent financing where your loan automatically becomes a permanent VA loan. 
While there may be more paperwork, a construction VA loan can be a great option if you want to build a custom home with all the perks of VA mortgage benefits.
Give us a call today to discuss how you can use your VA Benefits to build a new home!