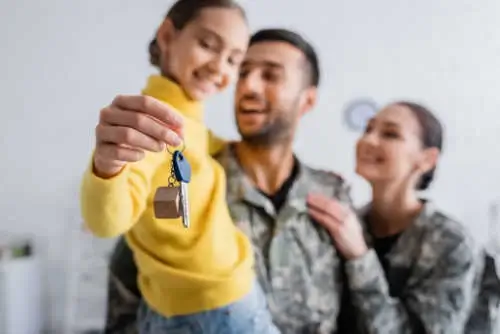 If you are a military member or retired veteran looking to get a mortgage, one of the best available is the VA loan. Sponsored by the Department of Veterans Affairs, these mortgages offer incredible terms to give you a leg up in homeownership. Here are 8 things you may not know about VA loans that could help you make your decision:
No Down Payment- Hands down the best feature, VA loans require zero down payment. That's practically unheard of with other types of mortgages these days. That's a saving of tens of thousands of dollars, allowing you to stop waiting and get into a home faster.

No Minimum Credit Score- Because the loans are guaranteed by the government, there is no specific credit score requirement for a VA loan. This is a huge blessing if you have less-than-perfect credit. Be aware, however, that the VA does not make the loans, just backs them. Private lenders actually originate the mortgages and each lender may have their own minimum credit score qualifications.

No Private Mortgage Insurance- while there is a one-time upfront funding fee for VA loans, they do not require private mortgage insurance (PMI). Compare that to paying an extra couple thousand dollars a year in PMI on traditional loans without 20%down payments and the savings really add up. 

Reduced Closing Costs- another great benefit is that VA loans allow for seller concessions when it comes to closing costs. This could include things like prepaying your taxes and homeowner's insurance, buying down your interest rate, paying the funding fee, or even gifting you appliances like a microwave or dishwasher. The total amount of seller concessions may add up to a maximum of 4% of the loan total.

Low Mortgage Interest Rates- Thanks to the security of government backing, lenders feel confident giving out some of the lowest mortgage interest rates on BA loans. In fact, VA loan rates have been consistently lower than conventional and FHA rates over the past decade.

Lifetime Benefit- As long as you qualify for your full entitlement, VA loans can be used over and over again for each subsequent primary home purchase. Typically you can only have one VA mortgage at a time, however.

Multiple Loan Options- VA loans can come in a host of formats. You can get a conforming VA loan for amounts under the federal limit but jumbo VA mortgages are also available (although a small down payment will be required for jumbo loans). If you want to refinance, VA loans are available as Interest Rate Reduction Refinance Loans (IRRRL) or cash-out refis to take advantage of your home's equity.

Surviving Spouse Eligibility- VA loans are also available to the surviving spouses of military members in many cases. To qualify, your spouse must have died while on active duty or from a service-related disability. You may also be eligible if your spouse was missing in action or a prisoner of war. 
When it comes to home loans, the military has done a great job of looking out for their hard working service members. VA loans are an excellent way to fulfill all your homeownership mortgage needs.
Give us a call if you'd like to find out how to get a VA Loan or to ask us any specific or general questions about VA Loans.
These materials are not from the VA, HUD or FHA and were not approved by HUD or a government agency.